Toyota Supra is Back, Finally
Posted Friday, Jan 18, 2019
After a 20 year absence in the US market (and 16 year absence in Japan), the Toyota Supra is back, and the automotive world is all abuzz- both positive and negative. For those that are happy, the big deal is that it's the Supra, and it's back. And it has some great performance features that will make it a nice everyday commuter with the ability to run around the racetrack. For those that aren't happy, the big deal is that it's not totally a Toyota. That's because it was co-developed with BMW, but that certainly is not the worst company to collaborate with. Yet, it's a great car no matter which side you find yourself on- or on neither side if you're indifferent, but that may be cause to have your pulse checked.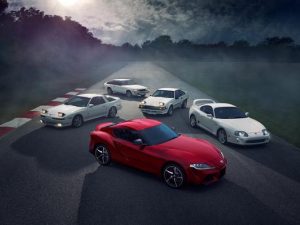 Although it is a collaboration, the 2020 Supra remains true to its heritage: it has a turbocharged straight 6 under the hood. It even matches the 4th generation's 3.0 liter displacement. But, it makes more power than any production Supra to date: 335 hp and 369 lb-ft of torque. In today's golden era of horsepower with several American cars making over 700hp (ZR1, Hellcat, Redeye, GT500), this seems pretty anemic. However, the Supra weighs in at anywhere from 250-1000 lbs less than these; that's pretty substantial. In fact, the new Supra with an average adult driver and passenger, plus a trunk full of luggage weighs less than a Hellcat with no occupants and all four wheels removed.
Back to the engine: although it is a 3.0L I6 like past Supras, it's one of the parts from BMW. In fact, it is BMW's B58B30M1 that's currently used in the X5 and X7, and in some versions of the Z4 and the M340i. The purists think it's atrociuos to have a Supra with an engine not made by Toyota. However, the B58 comes in many variants and has, therefore, had most issues sorted out. Additionally, there are several companies that have developed go-fast goodies for this engine; modifications should be readily available. So, if 335hp isn't enough, your Supra could quickly and easily have more.
Those 335 horses are transmitted through a transmission found in BMWs (though not made by them): the ZF8HP. It's also found in Alfa Romeos, Aston Martins, Bentleys, Lamborghinis, Maseratis, and Rolls-Royces; not too shabby. As its name suggests, it features 8 speeds, and it can shift from one speed to the next in around 200 milliseconds (2/10 second). Some sports car aficionados lament the fact that no manual is available, but the ZF8HP does come with paddle shifters. With its launch control, those 335 ponies, and that quick shifting 8-speed, it reaches 60 mph in only 4.1 seconds. With hypercars reaching 60 in the 2.X range, 4.1 may seem slow, but there are still loads of sports cars that take longer than 4.1 seconds (Porsche Boxster and Ferrari F430, to name but two).
Not only would this car have great forward acceleration, it should have great lateral acceleration. As mentioned above, it weighs just below 3400 lbs, which is in the neighborhood of most Porsche 911s- they usually handle very well. Not only that, but it has a 50/50 weight distribution, which is similar to 'Vettes and Vipers. Additionally, its roughly 97" wheelbase and 62" track width offer a quick turn-in response; when coupled with its 255/35R19 front tires and 275/35R19 rear tires, the Supra should handle quite well.
Lastly, all of that power and handling can be manipulated for the immediate purpose. The Supra comes with Normal, Sport, and Sport + modes. These modes dictate the stability, the suspension dampening, gear-shift points, and throttle response. Hence, its ability to be an every day commuter or a racetrack weapon. All of that comes in a package that borders on being over styled, but Toyota kept it just within the bounds. In either case, it has the classic Supra silhouette: the long hoodline, just off-center cockpit, and fastback. Whether totally Toyota or part Bimmer, it's a great car and I'm enthralled that the Toyota Supra is back.
o read about the other 4 hottest cars at NAIAS, click here.