Lexus RC F Track Edition specs
Posted Monday, Jan 21, 2019
Over the past few years, Lexus has been flexing its performance muscles in spite of having been birthed as a luxury brand. Although the standard RC is a plush, posh ride, the RC F Track Edition is luxurious in the way that a recliner bolted into a F-16 would be luxurious: it looks comfortable and accommodating, but it's got the muscle to jet around the track. It seems like RC now stands for Race Car. Real crazy, huh?
The standard RC is a nice car to begin with: Luxurious seats, modern instrumentation, 8-speed direct-shift transmission, and either a 241hp turbo'd I4, a 260hp V6, or a 311hp V6. So, it's a nice ride with nice performance in any iteration. The RC F Track Edition, however, ups the ante in several departments- which makes it befitting of a track worthy car.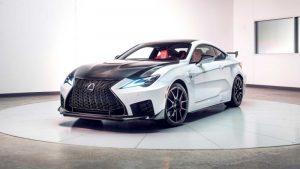 To begin with, a track car needs more power than that; hence, the Track Edition receives a 5.0L V8 that pumps out 472hp and 395 lb/ft. That resembles the 2019 Mustang GT Coyote numbers- 5.0L with 460hp and 420 lb/ft; with all of the positive feedback concerning the GT's quickness, those numbers should reflect a quick Lexus. And they do: the Track Edition jets to 60mph in 3.97 seconds. The power is not solely responsible for that acceleration, though. The final gearing has been reduced by 2/10ths. Also, the 8-speed direct-shift helps in that category as well because it shifts more quickly than a human with a straight drive. Another interesting trait about the transmission is that it accounts for G-forces in its shift points: it holds the gear longer if cornering hard so as to not upset traction with a mid-turn shift. That transmission and engine make for quite a drivetrain.
Yet, the drivetrain isn't the only thing special about this version of the RC. It has upgraded wheels (BBS) with sticky Michelin Pilot 4S tires, several aluminum suspension parts, a couple of hallowed shafts, a titanium exhaust, and several carbon fiber panels, splitters, and wing. Admittedly, the weight savings isn't that great, but Lexus wanted to keep the ride comfortable.
So, in the end, the RC F Track Edition has the luxurious ride Lexus is known for, albeit with similar performance numbers to the Mustang GT. In other words, a recliner in a fighter jet. Sounds fun...
To read about the other 4 hottest cars at the Detroit Auto Show, click here.