Diesel Muscle Car: Tracking the Carbon Bigfoot
Posted Tuesday, Oct 03, 2023
Ever since Rudolf Diesel developed his first diesel engine in 1897, it was inevitable that it would find its way into automobiles- so it was no surprise when Mercedes Benz introduced their model 260 D in 1936. Since that time, diesels have been available in several cars and trucks; some of the trucks are performance oriented (mainly for towing), but most of the cars utilize the diesel for its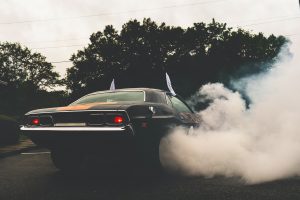 fuel economy. However, no one generally thought of a diesel muscle car or sports car...until recently. And, boy, has it caught on.
One of the lesser known trends that has been steadily flowing in a modcar undercurrent is swapping out the gasoline engines of sporty vehicles with those from larger pickup trucks, like Fords, Chevy's, and Rams. Some of the diesel cars featured on various YouTube videos include a 2006 Charger, 2010 Camaro SS, first generation Miata, Mazda RX-8, Nissan 240SX, late 90s Mustang, and even a Smart Car, among many others.
So what's the allure of making a sports car belch smoke and soot, rendering it to an infinite state of filthiness? Torque!! Simply search on YouTube for these swaps- you'll see car after car with the ability to completely incinerate its tires. It's rare to find a gasoline powered car that can equal the diesel swapped burnouts. Not only that, all of that torque gives these cars some amazing acceleration. The top speed of these vehicles may not rival their petrol counterparts, but the quick acceleration will get them ahead of their competition in a drag race, and the impenetrable smoke screen totally encompassing the roadway will prevent the competition from seeing how to ever pass (think of a James Bond smoke screen if Q had given him a souped-up dumptruck). It's a win-win situation, unless you're concerned with carbon footprint. Well, someone's gotta be the automotive Sasquatch.
Photo by Clint McKoy on Unsplash